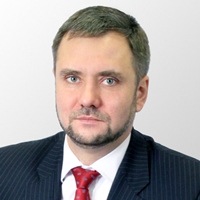 21, 1st Tverskaya-Yamskaya Str.,
Moscow, 125047, Russia
Tel.: +7 (495) 544 56 09 (direct dial)

24 Nevsky Av.,
St. Petersburg, 191186, Russia
Tel.: +7 (812) 449 96 30 (direct dial)

The Index Tower, DIFC
UAE, Dubai
Tel.: +971 4 894 13 09 (direct dial)

ilya.nikiforov@epam.ru
A well-known personality on the international arbitration circuit. He deserves his high ranking because he is an excellent academic and a very smart guy with lots of experience
Ilya Nikiforov is a founding member of the firm. A visible figure in the international arbitration community, he is considered a first tier dispute resolution specialist. What is truly remarkable is that Mr. Nikiforov's expertise is not limited to dispute resolution. The Best Lawyers 2022 ratings recommended him for a record-breaking 16 practice areas. These are project finance and development, international arbitration, arbitration and mediation and litigation, corporate law, criminal defense, M&A, banking and finance law, construction and real estate laws, investment, intellectual property law and telecommunications law, technology law, labor and employment law and insurance law. This confirms the primacy of Mr. Nikiforov as a specialist with a unique range of competencies.
An active member of the professional community, he has previously served as Vice-Chair of the ICC Commission on Arbitration and Alternative Dispute Resolution (ADR); Councillor at London Court of International Arbitration (LCIA) European Users' Council; Vice-Chair at International Bar Association (IBA) Arbitration Committee and Vice-Chair of the International Arbitration Commission of the International Chamber of Commerce Russian National Committee (ICC Russia). Ilya Nikiforov is a Deputy Chairman of the Board at the Russian Arbitration Association (RAA) and is a Board Member at the Arbitration Court of the Dubai International Arbitration Center (DIAC). Previously, Ilya was also an Executive Committee Member at the Swedish Arbitration Association (SAA).
Top-notch arbitration practitioner
Ilya Nikiforov is well-known in the international arbitration community as a seasoned practitioner. Listed as an arbitrator by the ICDR, WIPO, HKIAC, KCAB, the Vienna International Arbitral Centre, the Arbitration Institute of the Stockholm Chamber of Commerce, The International Commercial Arbitration Court at the Russian Federation Chamber of Commerce and Industry, and other arbitration institutions throughout the world. Mr. Nikiforov acted as an arbitrator in more than 20 international arbitration proceedings, ad hoc (including UNCITRAL) and under the rules of the SCC, ICC and ICAC Moscow.
WWL Thought Leaders: Arbitration 2020 recognises Ilya Nikiforov as one of the world's thought leaders in arbitration, praising his "extensive recommendations from peers for his profound expertise in IP, property and project development arbitration disputes".
A lawyer who is well versed in technology
Qualified in computer engineering prior to obtaining his law degree and recommended for Technology Law by Best Lawyers 2022, Ilya Nikiforov is a thoughtful leader of the firm's IT/IP practice. Clients appreciate business minded and sophisticated service tailored to protect their IT/IP assets. This team has handled a wide variety of projects including design of general IP strategy for industrial clients, fighting counterfeit products, IP ownership disputes and litigation involving licensing contracts; it is particularly strong in matters relating to information technologies.
Russian law expert
Mr. Nikiforov's expert opinions have been accepted by US, English, German, Dutch and French courts.
In 2018 he was awarded the Order of the Federal Chamber of Lawyers of the Russian Federation «For loyalty to attorney's duty». In 2020 Ilya Nikiforov was awarded the Medal of Order for Merit to Fatherland, II Degree for long-term diligent work and efforts to strengthen the rule of law and protect the rights and interests of citizens. In 2022 the Guild of the Russian lawyers awarded him with the medal "Honorary Attorney of Russia."
Mr. Nikiforov not only performs a brilliant practical work but also succeeds in the scientific research. He co-authored a leading Commentary to the Civil Code of the Russian Federation (vol. I-IV, 2006-2018). His portfolio counts more than 100 scientific publications on commercial laws and international private law & dispute resolution. Mr. Nikiforov has been lecturing at St. Petersburg State University Law School for more than 20 years.
Ilya Nikiforov is fluent in English and acquainted with foreign legal systems, continental and common law traditions.
PRACTICE AREAS