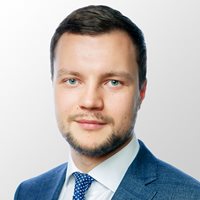 21, 1st Tverskaya-Yamskaya Str.,
Moscow, 125047, Russia

Tel.: +7 (495) 935 8010
Fax: +7 (495) 935 8011

oleg_bouiko@epam.ru
Oleg Bouiko advises and represents clients before Russian courts. He specialises in corporate and antitrust litigation, as well as insolvency cases, and is experienced in handling complex mandates relating to commercial, tax, securities and insurance disputes.
Recently, he has acted in the following disputes:
Protecting former shareholders and top managers of a bankrupt Russian insurance company against attempts to hold them liable for a subsidiary of the company in debt.
Challenging management decisions which were contradictory to the interests of a company and its shareholders in order to protect a shareholder in what became the largest shareholder dispute in Russian corporate history.
Representing a US bank in a complicated case involving tracing withdrawn money and providing legal support for the enforcement of the court decision to collect the stolen money from the opponent.
Providing complex support to BP, one of the world's leading integrated oil and gas companies, in legal proceedings arising from corporate disputes over its joint venture with TNK.
Successfully protecting a large industrial holding in a multi-billion ruble corporate dispute over the refinancing of a company's debt.
Protecting a pharmaceutical goods retailer from Russian and foreign opponents attempting to seize control of the client's company.
Representing a leading European telecommunications company in a shareholder dispute with a Russian shareholder from a large Russian telecommunications provider.
Successfully defending Yandex, Russia's largest IT company, in disputes relating to Google's anticompetitive behaviour on the mobile app market.
Representing the largest automotive manufacturer headquartered in South Asia in the court of cassation with relation to the termination of a contract with one of its Russian dealers. Previously, in the trial court and the court of appeal, the client had been unsuccessfully represented by a well-known UK-based law firm.
Challenging an antitrust authority's decision to recognise a client as a monopolist and thereby revoking the fines the client faced for conducting monopolistic activities.
Defending a client against attempts to enforce RUB 220m debt under a construction contract. Due to the efforts of the Firm's experts, the parties entered into a settlement agreement and all charges against the client were dropped.
Representing a pharmaceutical company in a dispute relating to additional income tax with a tax authority in the court of cassation. Experts of the Firm successfully challenged the authority's decision on most case.
Representing a policy holder in a RUB 1bn dispute related to reparation by an insurer of damages resulting from a break in aluminium plant operations due to the collapse of a railway bridge.
Prior to joining EPAM Oleg worked at one of Big Four accounting firms and a Russian law firm. He graduated cum laude from the Higher School of Economics.
He is recommended for Litigation by Best Lawyers 2018.
Oleg is a qualified attorney and has been admitted to the Moscow Bar Association.