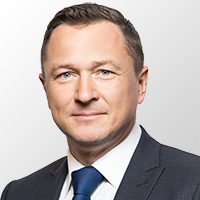 21, 1st Tverskaya-Yamskaya Str.,
Moscow, 125047, Russia

Tel.: +7 (495) 935 8010
Fax: +7 (495) 935 8011

mikhail_kazantsev@epam.ru
Mikhail has extensive experience in acting on major deals and investment projects on the Russian M&A market in various economic sectors, advising Russian and international clients on deal structuring, due diligence, regulatory approvals, financial recovery and restructuring proceedings. In addition, Mikhail participated in the development of Russian legislation on controlled foreign companies (CFCs) and capital amnesty.
Previously, Mikhail was a member of the board, deputy general director and head of the legal department at the largest Russian geological exploration holding - JSC Rosgeology, where he led a division of more than 100 lawyers from the Russian Federation. This legal division was particularly involved in the implementation of the company's key projects aimed at increasing the efficiency of the reproduction of the Russian Federation's mineral resource base.
Prior to joining Rosgeology in 2016, Mikhail worked at EPAM for over 10 years, 6 of which as a Partner.
Mikhail also headed the legal department of the St. Petersburg Customs Office and held various senior in-house management positions.
Mikhail graduated from the St. Petersburg State University Law School. In 2013, he received his Master's degree from Columbia University (USA), and in 2018, he received MBA from Gubkin Oil and Gas University.
Mikhail has been admitted to the Moscow Bar. Member of the New York Bar.
PRACTICE AREAS
News