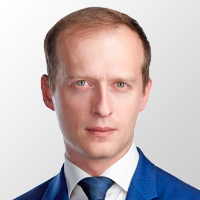 21, 1st Tverskaya-Yamskaya Str.,
Moscow, 125047, Russia

Tel.: +7 (495) 935 8010
Fax: +7 (495) 935 8011

andrey_porfiriev@epam.ru
Andrey Porfiriev PhD, focuses on regulatory issues, legislative drafting, administrative law and resolution of disputes that frequently involve governmental authorities. He has extensive experience of liaising with state corporations at all levels.
His practice comprises execution of joint state projects, as well representation of interests of industrial, telecommunications, education, science, aviation and pharmaceutical companies.
Andrey's experience highlights include:
Successfully representing the owner of a seized land plot in obtaining compensation from the Moscow Government .
Representing a client in the settlement of a dispute between a federal executive authority and a large foreign investor over the purchase of a land plot.
Representing a large industrial holding in proceedings involving the Russian Ministry of Defence.
Advising Knauf on signing of RUB 3.5bn investment agreement with Leningrad Regional Government to renovate production facilities for cardboard.
Representing a large manufacturer of medical goods during raids by the Federal Supervisory Agency for Health Care and Social Development.
Advising a client on launching a state-controlled vertically integrated applied science management entity in aviation.
Representing EGGER, one of Europe's largest wood product manufacturing companies, in obtaining permission from the Russian Government for the import of the unique technological equipment on preferential terms.
Advising a top US medical device and pharmaceutical company on how Russia's entry into the WTO affects registration of the intellectual property rights to clinical trial results.
Advising a pharmaceutical corporation on localization of tomography manufacturing and relevant supplies for state needs.
Representing Danone Russia in a joint project with Soyuzmultfilm to produce a series of sequels to the popular animated short film.
In 2005-2008, Andrey was the head of the litigation department at the Federal Industrial Agency, overseeing bankruptcy proceedings of strategic companies and organizations, advising on protection against corporate raiding of state-owned enterprises and legislative efforts affecting various economic sectors.
Andrey is heavily engaged in social activity and co-chairs the Business Against Corruption Public Center (under the auspices of Delovaya Rossiya). He is also on the Inter-Agency Workgroup of the Governmental Commission for Prevention of Bankruptcy of Strategic and Defense Enterprises. He works closely with NGOs, foundations and self-regulatory organizations of insolvency officers. For several years, he has been on a number of task forces for legislation development.
Andrey is a member of the RSPP Committee for Development of Pension Systems and Social Insurance. He has been certified by the Ministry of Justice of Russia as an independent expert for anti-corruption examination of legislative acts.
Andrey has acted as an expert for the Council of Europe on a project named "Protection of Entrepreneurs' Rights from Corrupt Practices in the Russian Federation". He has been commended for drafting of the Law of the Presidential Commissioner for Entrepreneurs' Rights by both the Presidential Commissioner Boris Titov and the Minister for Economic Development (aide to the President since June 2013), Andrey Belousov.
In 2016, the Russian Presidential Commissioner for Entrepreneurs' Rights Boris Titov awarded a letter of commendation to the Firm for Andrey's persistent pro bono efforts in protection of entrepreneurs' rights at a session of the Business against Corruption Public Center. Andrey Porfiriev has been commended by Boris Titov for significant contribution in the development of a mid-term program for social and economic development of the Russian Federation till 2025.
Andrey graduated cum laude from the Law School of the Moscow City Teachers University (2003) and had his PhD (2006) at the same school.
Best Lawyers named Andrey the Lawyer of the Year in Aviation.
He has been admitted to the Moscow Bar Association.
PRACTICE AREAS