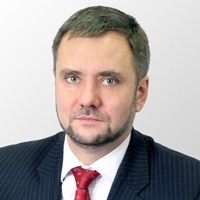 21, 1st Tverskaya-Yamskaya Str., Moscow, 125047, Russia
Tel.: +7 (495) 935 8010; Fax: +7 (495) 935 8011

24 Nevsky Av.,
St. Petersburg, 191186, Russia
Tel.: +7 (812) 449 9630 (direct dial)

Kyiv: +7 (911) 015 0228 (direct dial)
London: +44 (0) 20 7822 7099 (direct dial)
Minsk: +7 (911) 015 0227 (direct dial)
Washington: +1 202 715 0648 (direct dial)

ilya.nikiforov@epam.ru
A well-known personality on the international arbitration circuit. He deserves his high ranking because he is an excellent academic and a very smart guy with lots of experience
Ilya Nikiforov is a founding member of the firm. He has invaluable experience in international arbitration and litigation, construction, intellectual property law and development projects. A visible figure in the Russian arbitration world, Nikiforov is considered a first tier dispute resolution specialist. The Arbitration team of the firm is consistently regarded as the top dispute resolution crew in Russia and is the only one in the CIS ranked by Global Arbitration Review (GAR) 100. What is truly remarkable is the breadth of practice areas encompassed by Mr. Nikiforov's expertise.
An active member of a professional community, he was appointed an officer of the Arbitration Committee of International Bar Association and of Eurasia committee of American Bar Association. In 2013 he was appointed as a Councillor of the London Court of International Arbitration (LCIA) European Users' Council.
Top-notch arbitration practitioner
Ilya Nikiforov is well-known in the international arbitration community as a seasoned practitioner. Listed as an arbitrator by the ICDR, WIPO, HKIAC, KCAB, the Vienna International Arbitral Centre, the Arbitration Institute of the Stockholm Chamber of Commerce, The International Commercial Arbitration Court at the Russian Federation Chamber of Commerce and Industry, and national institutions throughout Russia & Eastern Europe. He appeared as a counsel at higher domestic courts at all levels, the International Commercial Arbitration Court in Moscow and international arbitration tribunals, such as the ICC, LCIA and SCC. He is often engaged to serve as a Russian law counsel/expert in connection with commercial litigation and international arbitration proceedings worldwide.
A lawyer who is well versed in technology
Qualified in computer engineering prior to obtaining his law degree and Lawyer of the Year in Information Technology in St. Petersburg according to Best Lawyers 2020, Ilya is a thoughtful leader of the firm's IT/IP practice. Clients appreciate business minded and sophisticated service tailored to protect their IT/IP assets. This team has handled a wide variety of projects including design of general IP strategy for industrial clients, fighting counterfeit products, IP ownership disputes and litigation involving licensing contracts; it is particularly strong in matters relating to information technologies.
Russian law expert
Mr. Nikiforov's expert opinions have been accepted by US, English, German, Dutch and French courts.
In 2018 he was awarded the Order of the Federal Chamber of Lawyers of the Russian Federation «For loyalty to attorney's duty». In 2020 Ilya Nikiforov was awarded the Medal of Order for Merit to Fatherland, II Degree for long-term diligent work and efforts to strengthen the rule of law and protect the rights and interests of citizens.
For more than 20 year Mr. Nikiforov has been conducting scientific and educational activities as well as had taught at St. Petersburg State University Law School. Currently, he lectures author's courses at the leading Russian universities. He frequently speaks on issues of law and legal practice at professional legal conventions and has published a substantial number of works on Russian business laws. Co-authored one of the leading Commentaries to the Civil Code of the Russian Federation. The author of the monograph "The 2010 UNCITRAL Arbitration Rules. Workbook", co-author of the book "Construction contracts under FIDIC rules: application and interpretation".
Nikiforov is fluent in English and has experience with foreign legal systems, continental and common law traditions, thus facilitating conveyance of findings to decision-makers from different legal cultures.
PRACTICE AREAS