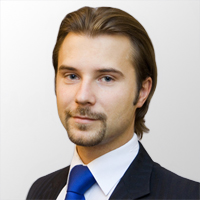 24 Nevsky Av.,
St. Petersburg, 191186, Russia

Tel.: +7 (812) 322 9681
Fax: +7 (812) 322 9682

sergey_korolyov@epam.ru
Sergey is a Counsel in the Litigation Practice at the St. Petersburg Law Office of Egorov Puginsky Afanasiev & Partners.
His practice areas include corporate disputes, bankruptcy, contract disputes, investor disputes, the recognition and enforcement of international arbitration awards and decisions of foreign state courts, cases to overturn the decisions of arbitration courts, and disputes involving foreign law.
During his time at Egorov Puginsky Afanasiev & Partners, Sergey has represented clients in more than 500 trials in courts of first instance, appeal, and cassation, as well as in supervisory courts.
Some of Sergey's recent cases include:
Representing a foreign state-owned bank in a bankruptcy case involving the parent company of a Russian agro-industrial group.
Representing a foreign investment company in a corporate dispute involving the violation of the rights of foreign investors in the acquisition of a business in St. Petersburg.
Representing a major alcoholic beverage company at the Supreme Commercial Court of the Russian Federation.
Representing a major Russian food company in a bankruptcy case involving its business partner.
Representing a major manufacturer of car tyres in a case in which the unlawful confiscation of the Client's funds was attempted based on the decision of an arbitration court.
Representing a leading foreign maritime equipment manufacturer in a dispute with its Russian business partner arising from a construction contract.
Recognizing and enforcing the decisions of the International Court of Arbitration of the International Chamber of Commerce (ICC) and the London Court of International Arbitration (LCIA), as well as foreign state courts, in the Russian Federation.
Representing a Russian supermarket chain in a tax dispute related to the use of a trademark.
Representing a Ukrainian state enterprise in a commission contract dispute.
Representing a Murmansk fish processing company in a dispute related to the ownership of rights to a fish processing plant building.
Representing an investor in a dispute concerning the implementation of an investment project for the reconstruction of a building in the historic centre of St. Petersburg.
In 2005, Sergey graduated with honours from the St. Petersburg State University, School of Law. In 2008, he studied at the Academy for American and International Law in Dallas, Texas, USA.
A member of the St. Petersburg Bar Association since 2007, Sergey has repeatedly been recognized by the Association for excellence in the performance of his professional duties (in 2008, 2010, and 2012) as well as for his successes in providing representation in civil (arbitration) cases (in 2011).
The international ranking Best Lawyers recognises Sergey in litigation , insolvency and reorganization law.
Sergey speaks English and Spanish.
PRACTICE AREAS
Rankings and Awards