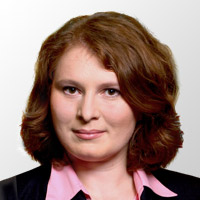 17/52 Bohdana Khmelnytskoho Str.,
Leonardo Business Centre, Kyiv, 01030, Ukraine

Tel.: +380 (44) 498 8282

o.ilchenko@epap.ua
Very responsive and willing to be practical in addressing the client's needs
Oksana Ilchenko has over 15 years of experience in M&A, corporate and banking law, restructuring and corporate mediation.
Oksana regularly acts for international and Ukrainian investors to obtain clearances from the Anti-Monopoly Committee of Ukraine and advises on antitrust compliance.
Since having joined the Firm in 2005, Oksana has played a key role as legal advisor on Ukrainian law issues in a number of matters, including the following outstanding cases:
developing and implementing a strategy for a leading European bank for closing of a material indemnity claim under an M&A deal;
advising Irish Bank Resolution Corporation on corporate law and JV establishment;
advising a number of international pharmaceutical companies on antitrust compliance, development of defense strategies under antitrust investigations;
advising a leading European bank on potential sale of its Ukrainian subsidiary bank (including pre-transactional restructuring);
mediating a corporate conflict between two leading Ukrainian agricultural companies;
advising lead managers (Barclays Bank PLC, Citigroup Global Markets Limited, ING Bank N.V. and The Royal Bank of Scotland plc) on VimpelCom bonds issuance;
advising Nokia Corporation on obtaining merger clearance for the acquisition of Alcatel-Lucent;
advising Apax Partners on the acquisition of GlobalLogic, including obtainment of clearance from the Anti-Monopoly Committee of Ukraine, deal value USD 420 mln;
advising Erste Bank on a number of matters, including the acquisition of Prestige Bank and a USD 33 mln borrower's debt restructuring;
advising Altimo on corporate and competition law matters with respect to the consolidation of the telecom assets of Alfa Group and Telenor resulting in creation of a new USD 23.8 bln telecom company;
advising Intesa Sanpaolo on the acquisition of Ukraine's Pravex-Bank;
advising Atradius and Willis on insurance law aspects and other regulatory matters.
Oksana has had her degrees (diploma with honors) from Ivan Franko National University of Lviv (International Relations) and Taras Shevchenko National University of Kyiv (Law School). She has also completed a post-graduate course in International Trade and Business Law at the T.M.C. Asser Institute in The Hague, Netherlands.
Oksana is a key representative of Egorov Puginsky Afanasiev & Partners at Lex Mundi, the world's leading law firm network.
PRACTICE AREAS