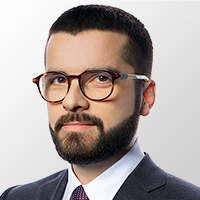 21, 1st Tverskaya-Yamskaya Str.,
Moscow, 125047, Russia

Tel.: +7 (495) 935 8010
Fax: +7 (495) 935 8011

Maxim_Burda@epam.ru
Maxim Burda is a patent and trademark attorney at the Moscow office of the Firm. Maxim focuses on contentious IP matters, which include complex litigations and enforcement actions over protection of trademarks, patents and other IP assets from counterfeiting, piracy, cybersquatting and other infringements.
Maxim also has expertise in all aspects of non-contentious IP matters, in particular, on transactional & contractual IP work and designing clients' internal policies on IP works-for-hire.
As a registered Russian patent (design) and trademark attorney, Maxim deals with pre-grant & post-grant patent (design) and trademark prosecution, specifically, managing clients' patent (design) and trademark portfolios, advising on their state registration, licensing and assignment, as well as conducting such registration for clients. Maxim also represents clients before the Russian Patent and Trademark Office (Rospatent) and the Russian Patent Dispute Chamber.
Maxim also has extensive experience in advising clients on competition and advertising matters. Having in-depth procedural expertise in both court and out-of-court dispute resolution, Maxim frequently represents clients in other non-IP disputes.
Under various engagements Maxim has advised and represented many of the largest international and Russian media companies, record labels, news outlets, marketing consultancies, luxury goods manufacturers, food and FMCG companies, retail and hotel chains, as well as automotive, forestry, chemical and pharmaceutical companies.
Maxim's selected career highlights include:
Representing Orion Corporation in a series of complex litigations over infringements of a patented pharmaceutical product by generic manufacturers.
Advocating for a major Russian supplier of components for printing equipment in a multimillion-rouble patent lawsuit filed by an international imaging and optical products manufacturer.
Providing legal support to Samolet Group, a leading Russian real estate developer, securing a well-known trademark recognition for the group's brand. The Firm successfully convinced Rospatent that Samolet's brand is well-known and related to construction and real estate operations across Russia.
Taking part in a well-known international brewery-side litigation over an infringement of an opponent's trademark series.
Litigating for a regional news outlet over a trademark non-use action filed by a leading Russian Internet media firm.
Advising on cybersquatting for the largest international furniture retailer.
Providing notable litigation on behalf of major record companies over a massive infringement of popular phonograms across the largest Russian social network.
Providing all-sided IP advisory for Orange telecommunication group, Abrau-Durso wine house, Peterburgsky Traktorny Zavod and other leading Russian and multinational companies on IP-assets protection, in particular, on trademark registration, licensing and assignment, as well as on rebranding and entering the Russian market.
Anti-counterfeit campaigns for Formula One Management, a well-known international luxury goods manufacturer and other international clients, including identification of counterfeit products in the Russian market, claim settlement with infringers and, where settlements were impossible, liaising with enforcement agencies and judicial recourse.
Advising on competition and advertising for a leading international retail chain and a major international marketing consultancy, particularly, on operating massive promotional events and loyalty campaigns in Russia.
Representing the interests of a reputable international business magazine and a major chemical company in defamation litigation over a discrediting publicity on the Internet.
Designing internal policies on IP works-for-hire for prominent Russian software & IT companies.
Prior to joining Egorov, Puginsky, Afanasiev & Partners, Maxim worked in IP and dispute resolution practices in reputable international and Russian law firms.
Maxim is ranked as a Rising IP Star by The Legal 500 2020 and recommended in IP & Litigation by Best Lawyers 2019-2021. Maxim is also mentioned for patent disputes, patent filing and protection strategy by IP Stars Patent Editorial 2018. In addition, IP Stars Trademark & Copyright Editorial 2018 mentioned Maxim for trademark work & IP transactions.
Maxim graduated from Kutafin Moscow State Law University as a lawyer and as an English translator in professional communications. In 2018, Maxim completed postgraduate studies in trademark prosecution, and in 2020 – in patent (design) prosecution, at the Russian State Intellectual Property Academy.
He is fluent in English and Czech
PRACTICE AREAS
News
Rankings and Awards