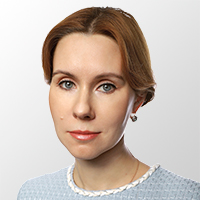 21, 1st Tverskaya-Yamskaya Str.,
Moscow, 125047, Russia

Tel.: +7 (495) 935 8010
Fax: +7 (495) 935 8011

elena_gavrilina@epam.ru
Elena Gavrilina, PhD, advises on real estate, land law, privatisation, public procurement and other federal and municipal property management matters. She is experienced in structuring of, and legal support for, major privatisation deals; advising on ownership and lease conveyance deals involving public land plots, including agricultural lands; advising on disposal of public properties and other methods of making public properties available for general trade, including implementation of investment projects involving public legal entities; performing market-value appraisals; and performing legal due diligence in respect to privatised and other properties.
Since summer 2012, she has advised on construction projects worth more than USD 25bn. This experience includes, but is not limited to:
Advising on a USD 3bn railway construction contract in the Far East of Russia.
Advising an international company developing an oil field and a gas field off the north-eastern coast of Sakhalin and involved in production, transportation, processing, and marketing of oil and natural gas on the compliance of a draft EPC contract governed by English law to Russian law, including reviewing and amending the standard form EPC contract.
Advising a Russian construction company on the settlement of its disputes with a European construction company over the construction of infrastructure for the Winter Olympic Games in Sochi.
Advising on RUB 100bn-plus underground construction contracts in Central Russia.
Advising on an investment contract for the construction of several Olympic facilities in Sochi and on the ownership to the land plot under construction sites.
Advising a listed European property developer on FIDIC contracts and related contentious matters.
Advising on a strategic investment project in St. Petersburg aimed at reconstruction of a historical district, including the issues of potential dissolution of the investment contract.
Her experience in real estate includes:
Performing legal due diligence on a property developer that erects a luxury apartments complex in Moscow.
Advising a St. Petersburg based retail chain on acquisition of multiple properties, including land plots and premises.
Advising an international DIY retail chain on certain real estate and regulatory matters related to its operations.
Advising on the acquisition of a 176 Ha land plot in the Leningrad Region for the construction of a plant.
Advising Swedspan, an IKEA company, on the USD 200m acquisition of Pfleiderer LLC, a company owning a wood-working factory in the Novgorod Region of Russia, from Pfleiderer Grajewo SA.
Before joining EPAM, Elena was Chief of the Legal Support Section at the Legal Department of Vnesheconombank Investment Company LLC (VEB Capital). Prior to that, Elena worked for two years as Deputy Director of the Legal Department at the Federal Agency for Management of State Property (Rosimuschestvo).
Elena also has 10 years of experience working with the Russian Fund of Federal Property, a specialised state institution of the Russian government, where she participated in directives dealing with sales of privatised properties and advised on the support and execution of these transactions. She handled a number of litigation cases, including those contesting the results of tenders and appraisals of privatised and seized properties.
Elena was awarded certificates of merit by the Ministry for Economic Development and Trade of the Russian Federation in 2005 and by the Russian Fund of Federal Property in 2004.
Elena graduated from the Moscow State Law University cum laude in 2002. She was awarded a PhD in 2006.
She is a member of the Russian Federation's Ministry of Justice Law Enforcement Advisory Board, a member of the Russian Government Advisory Board working group on public highways network development.
Elena co-authored the Russia chapter of Construction 2016 published by Getting the Deal Through.
She has been admitted to the Moscow Bar Association.
PRACTICE AREAS