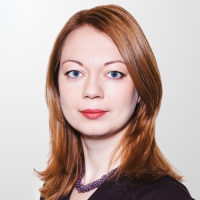 17/52 Bohdana Khmelnytskoho Str.,
Leonardo Business Centre, Kyiv, Ukraine

Tel.: +380 (44) 498 8282

a.yevstafyeva@epap.ua
Very good and trustworthy
Aleksandra Yevstafyevais a counsel in M&A and Corporate Practice and Head of Employment Law Practice of Egorov Puginsky Afanasiev & Partners Ukraine. She focuses on employment, corporate law, property matters in public sector and privatization.
Ms. Yevstafyeva has more than 13 years of experience in corporate law and more than 9 years in employment. She handled a number of domestic and international M&A transactions in various industries, has extensive experience in providing corporate law services, and advises foreign and domestic investors in relation to corporate matters. Aleksandra also provides full legal support in structuring employment relations, particularly with top-executives, bonus (including options) and other incentive structures for employees, HR procedures, labour safety and anti-fraud compliance, negotiation and mediation of labour disputes, dealing with trade unions, visa and labour immigration matters.
Most recently Aleksandra has advised:
the Irish taxpayer-owned bank being in the complex multi-jurisdictional litigation dispute over the landmark commercial real estate assets located in Kiev with respect to Ukrainian corporate and employment matters;
companies of Altimo Group (one of the majority shareholders of a world's telecommunication leader - VimpelCom) in the multibillion (USD 23.8 billion) deal on merger of telecommunications assets of Altimo and Telenor in the CIS;
Advent International Corporation with respect to Ukrainian corporate and employment matters;
KWS SAAT AG (one of the world leaders in seed production) with respect to Ukrainian corporate and employment matters;
a Ukrainian subsidiary of one of the leading European banks with respect to labour disputes and dealing with trade unions;
a leading worldwide operator of card systems, a leading consumer goods company and other big multinational companies with respect to Ukrainian employment and immigration matters;
one of the largest European food-store chains with respect to interaction with Ukrainian trade unions and collective bargaining;
one of the leading Silicon Valley IT companies with respect to development and implementation of numerous internal policies, support with state labour safety inspection, as well as other employment and regulatory matters;
a leading global pharmaceutical company on various corporate and employment matters as well as labour disputes; and
the leading worldwide providers of labour migration services.
She also regularly advises blue-chip companies and foreign investors with respect to their corporate, employment and other legal matters in Ukraine.
Ms. Yevstafyeva has participated in the governmental working group on developing the currently effective Law of Ukraine "On Joint Stock Companies".
Prior to joining Egorov Puginsky Afanasiev & Partners Ukraine, Aleksandra held the position of a senior specialist for the State Corporate Rights Management Department of the State Property Fund of Ukraine (2001-2004). In 2004, Ms. Yevstafyeva served an internship at Metcalf, Conlon & Siering PLC, Law Firm and at First National Bank of Muscatine, Muscatine, Iowa, USA.
Aleksandra holds a law degree from National University of "Kyiv-Mohyla Academy" (2001). She also obtained the Certificate of State Corporate Rights Manager at International Institute of Business (Kyiv, Ukraine) in 2003.
PRACTICE AREAS
News
Publications